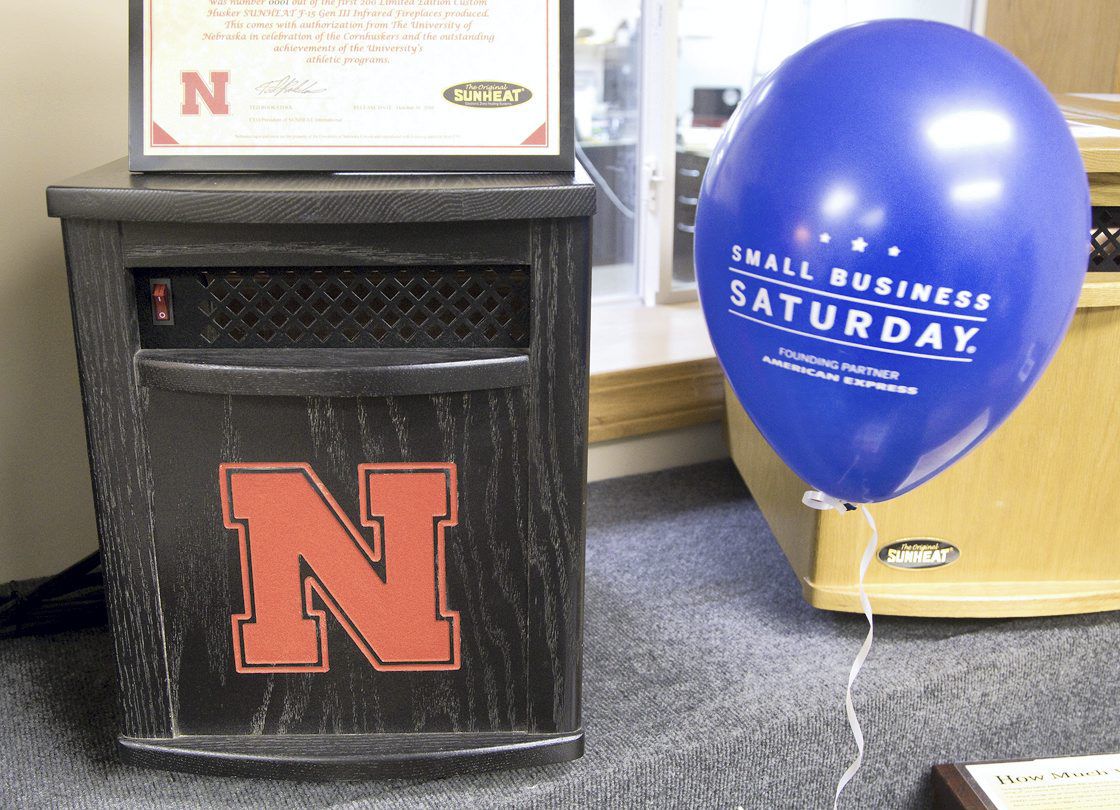 Hundreds of shoppers will flock to big box stores to take advantage of Black Friday deals this weekend, but small, local businesses say do not forget about them.
About 15 area local businesses will be participating in Small Business Saturday this upcoming Saturday. Small Business Saturday is a yearly event sponsored by American Express that aims to promote shopping at small businesses after Black Friday.
Cindy Johnson, director of the Grand Island Chamber of Commerce, said Small Business Saturday is about supporting the businesses that support the community.
"It is bringing an awareness to those businesses in our community that invest in our kids, our schools, our special initiatives and any project that the community has on its plate," she said.
Johnson added: "Our larger businesses — or what some would refer to as 'big box stores' — are not rooted in Grand Island. While they may have a commitment, it is often not at the same level as those small businesses that send their kids to school with their shoppers, go to the same church and social events. It is a different level of investment in the community."
Johnson emphasized she does not have anything against big box stores, but they may not offer the same shopping experience as small, local businesses. She said small businesses provide an "intimate shopping experience" as they know their shoppers by name and remember the types of products their customers are interested in.
"That doesn't usually happen in a big box store," Johnson said. "It happens at small businesses at a very personal level."
While she did not have a firm number on the number of small businesses in Grand Island, Johnson said the majority — 60 to 70 percent — of the Chamber's business partners are small businesses. She added the Chamber has around 800 business partners.
One business that will be participating in Small Business Saturday is Sunheat at 3724 Arch Ave. Josh Rookstool, director of sales, said Sunheat has participated in Small Business Saturday since 2011. He said on Black Friday, people will be rushing in for a product and getting trampled, only to end up with a lower-quality product.
"We know that firsthand," Rookstool said. "We've got 10 heaters that are opened up from different brands that we have out on display where we can show consumers the difference between what we make and what they make. I think it is the same with every small business. When you go in, you're able to talk to somebody and they know what they are talking about, I think that is important for a small business."
Rookstool added Sunheat offers quality products, as well as products that are not offered by any other retailer. These products include a patio heater with built-in speakers, a mist fan with mosquito repellent and propane heaters. He said Sunheat also provides a level of service not offered at larger retail stores.
"What I think it comes down to is you are able to talk to somebody — either me or somebody else that can help you," Rookstool said. "Small businesses are able to help you out and answer questions that you may not be able to get at a big box store."
During Small Business Saturday, Rookstool said he will have specials on its products such as ultrasonic mist fans, outdoor patio heaters, infrared saunas and massage chairs. He added Sunheat will also provide activities for kids on Saturday.
"We have snacks for the kids, donuts, coffee and cookies," Rookstool said. "We are doing a coloring contest too for the kids, so they should watch for that. The kids draw it, they send it in, get a juice pack and get their face painted if they want. They turn it in and hope they win."
South Beach Tanning Co. at 2104 Lawrence Lane, will also be participating in Small Business Saturday. Owner Tanya Stephens said the goal of her business is to attract people the entire weekend, not just on Small Business Saturday, as people tend to shop all weekend.
When asked about the products and services South Beach Tanning Co. has to offer, Stephens said it offers five levels of ultraviolet tanning, as well as sunless spray tanning. She added more people are coming to South Beach Tanning Co. this time of year to take advantage of its tanning services as it tends to be overcast, with not a lot of sun.
"This area of the country is really lacking vitamin D," Stephens said. "There are a lot of things that vitamin D benefits. Vitamin D is good for many things, such as depression, acne, arthritis, multiple sclerosis, eczema, etc. Ultraviolet (UV) B produces vitamin D in the body. We have referrals coming from counselors. A lot of people are coming in to tan because they say it makes them feel better. That is really a good reason for the increase this time of year."
In addition to tanning, Stephens said South Beach Tanning Co. also offers Devoted Creations lotions and after-care products, as well as DaVinci teeth whitening.
"DaVinci teeth whitening can be used for anybody," Stephens said. "It is an all-natural, plant-based teeth whitening service that is a fraction of the cost of a dentist. It is not harmful to your teeth. For people that are getting family pictures this time of year, it is a great time to whiten and brighten your smile, and feel more confident."
As noted in a flier Stephens provided to The Independent, South Beach will offer specials all next weekend. These specials include $1 lotion bottles with a purchase at regular price, $1 session packages with a purchase at regular price, $1 membership enrollments and $55 in upgrades for $1 with a purchase at regular price.
Stephens said she and South Beach Tanning Co. aim to promote shopping locally and spending money at locally owned businesses.
"We know that money is going to stay here in the community," she said. "We donate back to our local organizations, so we have always been a big proponent of trying to encourage people to spend their money locally and at businesses that are locally-owned."
Stephens said some of the non-profit organizations her business helps support include Boy's Town, Choice Family Healthcare and Hope Harbor. She added it has also donated to numerous after-prom parties and various benefit events. For Stephens, it is all about giving back to a community that supports her business.
"There are probably a dozen organizations that we donate to," she said. "We get our name out there and let people know what we do. We've found that when we give, we get out customers to return. It works out for everybody."
Rookstool said people should shop local on Small Business Saturday, and every day, because of the impact these small businesses have on the community.
"A lot of people that run these small businesses work long hours, work hard and are spending money in our community," he said. "It just keeps money in the community. The idea is, if we can get anybody to buy one product or item that they would have bought from a big box store, locally, it can be big for our small businesses."
Source:-.theindependent