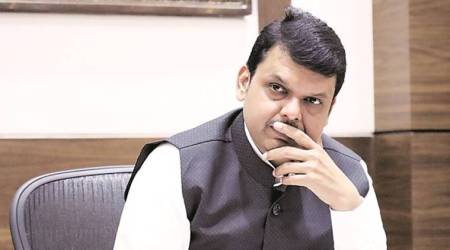 Brakes have been applied on public sector capital investment in Maharashtra. The Devendra Fadnavis government's Rs 34,000-crore farm loan waiver and the compensation to municipalities for loss of revenue due to implementation of the Goods and Services Tax (GST) have worsened the outlook for the state's debt-ridden economy.
This has now prompted the state's finance department to announce deep cutbacks in expenditure and impose restrictions on areas of spending.
All government departments have been directed not to submit new expenditure-related proposals for the time being.
In a government resolution issued on June 30, Additional Chief Secretary (Expenditure) V Giriraj has said, "In the ongoing fiscal, only proposals related to state's share in centrally sponsored schemes, matters of urgent importance, public health, judicial matters, tackling malnourishment, and welfare of the economically challenged would be considered."
Further, in a move that would hit big-ticket infrastructure projects, all departments and government agencies have been barred from raising loans from lending agencies. "The state has reached its upper limit for borrowings. Departments must not undertake even preliminary discussions for funding with financial institutions. No new proposal for raising loans will be considered this year," states the government order.
While state Finance Minister Sudhir Mungantiwar had estimated Maharashtra's total debt stock to rise to Rs 4.13 lakh crore at the start of the year, government's fiscal managers now anticipate this to deepen further, in the wake of the loan waiver payout and the compensation of municipalities.
The finance department has anticipated an annual burden of Rs 13,000 crore on the state's treasury as compensation for loss of revenue due to implementation of the GST. While the Centre has agreed to compensate the state government for the loss of revenue on indirect taxes in existence till July 1, it has already turned down the state's demand for compensation for loss of the local body tax (LBT) in municipalities, which was abolished by the Fadnavis government last year.
Accordingly, the state's debt servicing Bill, which was earlier estimated to be Rs 31,027 crore or 13% of total revenue receipts, will rise further.
The 14th Finance Commission norms make it necessary for states to maintain interest payments on borrowings within 10% of revenue receipts. The debt repayment Bill, meanwhile, is estimated at Rs 15,358 crore for 2017-18.
The fresh curbs will also mean at least a year's delay in implementation of the recommendations of the Seventh Pay Commission in the state. "This will be deferred for at least a year," a senior source confirmed.
After announcing the debt waiver on June 24, the chief minister had acknowledged that it would impact the state's economic outlook for a couple of years. The state's finance department waited till the day of the GST roll out to unveil its austerity drive.
As reported in The Indian Express, the government has capped the spend on capital and revenue expenditure to 80% and 70% of the budgetary estimates for now. The curbs will be applicable for all expenditures except works taken up under discretionary funds made available to a legislator. Departments have been asked to prioritise completion of "last-mile" projects. The state's fiscal managers have sought "reconsideration" of subsidies on farm pumps and powerlooms arguing that they had burnt a deep hole on the state's treasury.
No new school, college, or industrial training institute would be approved as part of the austerity drive. In fact, officials have been asked to "review" the existing set-ups and shut down those where the student attendance was low. Curbs have also been imposed on approval of new teaching and non-teaching posts, and recruitments. The planning department has been asked to review all ongoing schemes to check those than could be discontinued.
The public works department has been ordered not to undertake new road or building development works till the ongoing works had been completed. A review of unspent funds distributed for assisting farmers hit by drought and unseasonal rains has been ordered. State-run irrigation corporations have been asked to return unspent funds. Departments have been asked not to issue tenders for construction work without the requisite approvals and confirmation of fund availability.
Purchase of new vehicles has been prohibited. Officials have also been asked to avoid air travel unless absolutely necessary. While all officials above the rank of the principal secretary were allowed executive class air travel, the benefit has now been curbed to officials above the Additional Chief Secretary-rank. Officials have been asked not to plan office renovation. Curbs have also been imposed on study trips and training programmes. The government has barred issuance of scholarship funds, salary grants, and individual benefits offline. Departments have been warned against diverting unspent funds.
["source-indianexpress"]