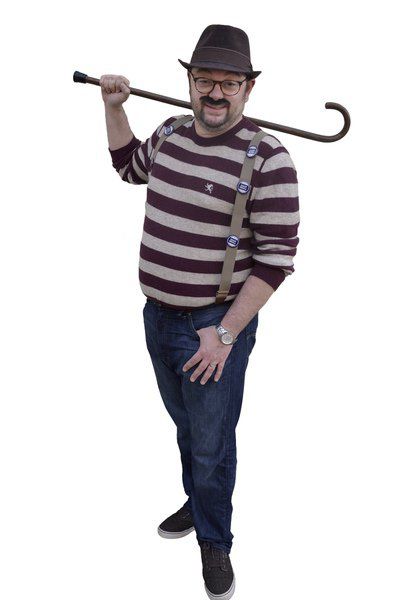 That's the Small Business Saturday motto, and on Saturday, cities across the country will recognize the annual event by celebrating the local joints, mom-and-pop shops and one-of-a kind restaurants that have created so much character and economic impact in the communities that claim them.
But The Norman Chamber of Commerce will have its own special twist on this year's event, which will no longer be limited to Saturday.
Now, Small Business Saturday weekend will continue through Monday (Nov. 27) and shoppers will have the chance to win prizes for finding Abner Norman hiding on the shelves of local businesses.
Well, not the actual city founder, but a pretty recognizable striped-shirt imitation courtesy of Republic Bank Assistant Vice President Joshua Hinkle.
"I've got the striped shirt. I definitely have an accent. I don't know where it came from, but definitely one of a kind for that character. Whenever we started shooting footage, it just kind of happened."
He may not know what inspired the accent, but Hinkle said he knows why he was eager to take on the role.
"Supporting local business is super important because of the sales tax that stays in Norman to pay for all of our city facilities and services — public safety, road improvements and all of the initiatives that make Norman great," he said. "That's why I agreed to be Abner in the first place.
"It's important to support your friends and neighbors and their businesses. It takes a leap of faith to start a business, and it takes a community to support those small businesses."
If found at one of the many local participating businesses, shoppers should take a picture of Abner and share to Facebook, Instagram or Twitter using the hashtag #ShopNorman (making sure the post is public) to be entered to win a prize package full of gift certificates.
"I'll be out and about at all the local stores. So, we'll be hitting West Lindsey and the Main district, downtown Norman, Campus Corner and the east side," Hinkle said. "I don't know what the prizes are yet, but from what I hear, they're going to be pretty cool."
Norman Chamber of Commerce vice president of communication and events Kayla Brandt said the list of participating businesses is still being finalized, but when it's set, the list will be posted on the Facebook event page.
Chamber president Scott Martin said the organization is excited to make the event Norman's own and has received a lot of positive feedback for its fun social media videos featuring Hinkle as Abner, which can be found by searching #wheresabner on Facebook and Twitter.
Martin said it's all geared toward recognizing the local businesses, which serve as the backbone of Norman's economy and community.
"Small Business Saturday gives the citizens of Norman the chance to support our locally-owned and operated businesses," he said. "These are businesses that give back to our community, day in and day out. The sales tax that's generated here stays here and goes to fund core government services. "If you don't spend your dollars locally … they won't be coming back"
Sandwiched between Black Friday and Cyber Monday, Martin said it's a perfect time to put local businesses back in the spotlight.
"They're generous in other ways, too. They give to students, nonprofit organizations and they're really an important part of the fabric of our community. This day is a day for the community to give back to those businesses that give throughout the year," he said.
Created by American Express in 2010 as a way to help small businesses get more customers, Small Business Saturday is hosted annually on the Saturday following Thanksgiving.
Martin said it's seemingly unexpected that a credit card giant like American Express would create such a movement, but he's happy it did.
In its eighth year, the event continues to drive consumers to small businesses.
Results from the 2017 Small Business Saturday Consumer Insights Survey, released last week by the National Federation of Independent Businesses (NFIB) and American Express, show 61 percent of U.S. consumers are aware of the event, and of those, 82 percent plan to shop or dine at a small, independently-owned retailer or restaurant on the day.
Source:-.normantranscript